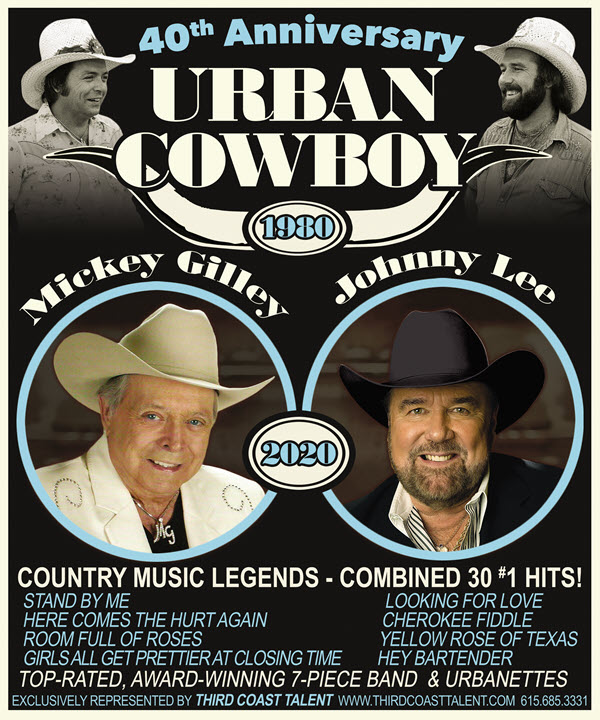 40th Anniversary - Urban Cowboy Reunion
Don't miss the Urban Cowboy 40th Anniversary Tour featuring Mickey Gilley and Johnny Lee! Listening to Mickey and Johnny will give you a night to remember! As they bring back some of their chart-topping songs completed with memories of the 1980 hit movie, Urban Cowboy.
Gilley and Lee have earned an outstanding 38 Chart singles with 20 #1 hits including Gilley's "Room Full of Roses," "Don't the Girls all Get Prettier at Closing Time," and Lee's "Cherokee Fiddle" and "Lookin' for Love." Sharing ten years of their music careers, these two are sure to put on an evening of great music, fun memories, and incredible entertainment!
Country pianist/vocalist Mickey Gilley shot to fame with his musical fusion of country, rock, blues, and R&B. Long associated with the urban cowboy movement, Gilley racked up 16 number one country hits which include "Room Full of Roses," "I Overlooked an Orchid," "City Lights," "She's Pulling Me Back Again," "True Love Ways," "Stand by Me," "That's All That Matters," and "You Don't Know Me."
For many years, Johnny Lee worked as a back-up singer and trumpeter in Mickey Gilley's band and was a guest headliner at Gilley's Texas nightclub. Lee's easygoing vocal stands out on the "Lookin' for Love," a million-seller hit and the musical centerpiece of the 1980's film Urban Cowboy, filmed on location at Gilley's club.
Mickey Gilley & Johnny Lee - The Urban Cowboy Reunion
March 18 - 22, 2020
Show Time: 8:00 PM (Laughlin Time)
Floor Seats: $42.00 + $3.00 SVC CHG + Tax
Riser Seats: $36.00 + $3.00 SVC CHG + Tax
$5.00 Locals Discount
Get Tickets